Dit jaar begonnen we fris en fruitig met de korendagen in Paradiso. Op 12 en 13 januari kwamen 140 koren naar Amsterdam om op te treden in de grote of kleine zaal. Wij zongen op zondag om 12:30 en zongen de volgende nummers:
Messiah
Hallelujah
Moment
May it be
Baba Yetu
Het optreden ging goed. Wel hebben we wat dingen geleerd:
Zorg dat het koor voor je niet zo vals zingt dat de halve zaal leeg is.
Zing niet in de kleine zaal als er een walvis van een koor (150 man!) in de grote zaal zingt.
Zing eigen werk, mensen gingen recht op zitten bij Moment.
Ga lunchen bij de Burgerking, je kan er erg goede gesprekken voeren
Wandelen vanaf centraal is erg mooi.
Mannen met sjaaltjes is zooo 2012.
Hier de link naar een video van ons optreden: Video Vamos Paradiso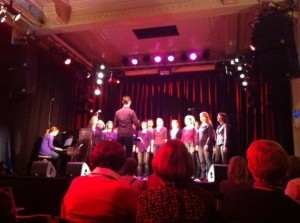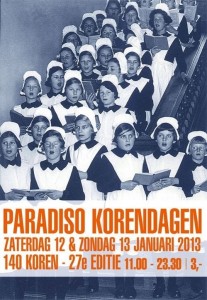 .